Hold On To The Rope And Save Yourself Hebrews Chapter 10: Part 5
15 December, 2021

Hebrews 10:26 -31 If we deliberately go on sinning after we have received the knowledge of the truth, no further sacrifice for sins remains, but only a fearful expectation of judgment and of raging fire that will consume all adversaries. Anyone who rejected the law of Moses died without mercy on the testimony of two or three witnesses. How much more severely do you think one deserves to be punished who has trampled on the Son of God, profaned the blood of the covenant that sanctified him, and insulted the Spirit of grace? For we know Him who said, "Vengeance is Mine; I will repay," and again, "The Lord will judge His people."It is a fearful thing to fall into the hands of the living God.

Moses was a servant of God and those who rejected the law were sentenced for death (The wages of sin is death), but Jesus was God Himself and if anyone insults or tramples what He did for the entire mankind, they'd be severely punished. It is a dreadful thing to fall into the hands of the living God. Although a tough and threatening Scripture portion, let's go through the context and comprehend what the author conveys.

Hebrews 6:4-6 For in the case of those who have once been enlightened and have tasted of the heavenly gift and have been made partakers of the Holy Spirit, and have tasted the good word of God and the powers of the age to come, and then have fallen away, it is impossible to renew them again to repentance, since they again crucify to themselves the Son of God and put Him to open shame.

Jesus is the Way, the Truth and the Life. If we deliberately go on sinning after we have received the knowledge of the Savior and the Word, there no longer remains a sacrifice for sins, but only a fearful expectation of judgment and of raging fire that will consume the enemies of God. Jesus wasn't crucified inside the temple of God but at Calvary or Golgotha, where those who passed by could see him lying there on the Cross.

Anyone who after receiving the knowledge of the truth deliberately tramples on the Son of God, profanes the blood of the covenant, and insults the Spirit of grace has got no chance of escape from judgment and the raging fire. Many do backslide after coming to faith, and some do even return when they face struggles in life, but this portion doesn't refer to such people; because they did repent on a later date and return to God. This portion actually adverts to the Messiahnic Christians who came to faith from the Jewish customs and then returned to the old testament way of life, to those who don't value the salvation that Jesus attained on the Cross of Calvary and returns to man's ways of keeping the law.

People who backslide/ fall into sin again after knowing the Savior do have a chance to return to God, but that's not a license to live a corrupted life; and the Word warns against such people too in the following verse. The Bible is very, very clear.

Galatians 6:7,8 – Do not be deceived, God is not mocked; for whatever a man sows, this he will also reap. For the one who sows to his own flesh will from the flesh reap corruption, but the one who sows to the Spirit will from the Spirit reap eternal life.

For we know him who said, "It is mine to avenge; I will repay," and again, "The Lord will judge his people." It is a dreadful thing to fall into the hands of the living God.

These verses give a blow to people's concept of God – some think God is cruel and harsh in dealing with people who gets them fried in Hell, while some others think God is so compassionate and there's no place like eternal Hell and that such verses as Hebrews 10:26-31 are recorded in the Bible for them to be fearful of the punishment and therefore would live a decent life on Earth. In other words, some think God is a Hard God and others think God is a soft God, whereas in reality, God's nature is a combo of both. The essence of God is Love, but He is Holy and Righteous too!! A balanced, strong and right personality will have two attributes: toughness and tenderness; and we see that in God. A good father will love and also discipline his child/children.

Jesus died for our sins and made a highway for mankind's salvation and redemption; and even after knowing this many walk away from God in their own will; trampling on the Son of God, profaning the blood of the covenant and insulting the Spirit of grace. The Lord never denies anyone who cries out to Him for salvation. What a great privilege to know this God whom we call 'Abba, Father'!

1 Peter 2:3 – now that you have tasted that the Lord is good.

People who've once come to faith have surely tasted God's goodness and mercy. People can lose their salvation if they deliberately reject the message of the Cross and choose to live in sinful ways. Some teach, once saved, always saved; but the Bible clearly states there are chances to lose your salvation.

Salvation depends on my personal relationship with the Lord – David Pawson

It's your current status of faith and walk with God that matters.

John 15:6 – If anyone does not remain in Me, he is like a branch that is thrown away and withers. Such branches are gathered up, thrown into the fire, and burned.

The people of God who were saved from Egypt, the house of slavery is another example that has been illustrated several times

1 Corinthians 10:1-12 The people of Israel were all under the cloud, and that they all passed through the sea. They were all baptized into Moses in the cloud and in the sea. They all ate the same spiritual food and drank the same spiritual drink. Nevertheless, God was not pleased with most of them, for they were struck down in the wilderness. These things took place as examples to keep us from craving evil things as they did. Do not be idolaters, as some of them were. As it is written: "The people sat down to eat and to drink, and got up to indulge in revelry."We should not commit sexual immorality, as some of them did, and in one day twenty-three thousand of them died. We should not test Christ, as some of them did, and were killed by snakes. And do not complain, as some of them did, and were killed by the destroying angel.Now these things happened to them as examples and were written down as warnings for us, on whom the fulfillment of the ages has come. So the one who thinks he is standing firm should be careful not to fall.

Hebrews 4:3 – Now we who have believed enter that rest, just as God has said, "So I declared on oath in my anger, 'They shall never enter my rest.'"

Jude 1:5 – Though you already know all this, I want to remind you that the Lord at one time delivered his people out of Egypt, but later destroyed those who did not believe.

I don't claim I have made it, but I am running forward to win. (Philippians 3:13-15) People with spiritual maturity would consider themselves this way.

Revelation 2:7 – To the one who overcomes, I will grant the right to eat from the tree of life in the Paradise of God.

Jude 1:24 – To him who is able to keep you from stumbling /falling and to present you before his glorious presence without fault and with great joy

Which means there are chances to fall from your faith in the Lord.

2 Timothy 4:7,8 – I have fought the good fight, I have finished the race, I have kept the faith. Now there is in store for me the crown of righteousness, which the Lord, the righteous Judge, will award to me on that day—and not only to me, but also to all who have longed for his appearing.

It is vital that we hold onto the faith until the very end and to finish well. Ergo, we need to be careful in guarding our faith and we need to cling to Jesus at all times, let come what may.

Imagine a person who fell overboard from a boat and is now swimming towards the shore. Meanwhile, another person on the shore extended a long rope to save his life. Now, if the person who is drowning refuses the help provided and continues to swim just to die; whom would we blame?

Likewise, only the ones who reject the free gift of salvation have no choice but to end in Hell. If you hold onto the salvation and continually repent of the sins in your daily life, the power in the blood and Name of Jesus will function in you, but today's Scripture portion warns against those who reject the Savior, His blood and the Holy Spirit. There is always hope for those who trust in the Lord and march ahead in life! We need that humility and an open heart to receive and enjoy the free gift of salvation

Watch full video here: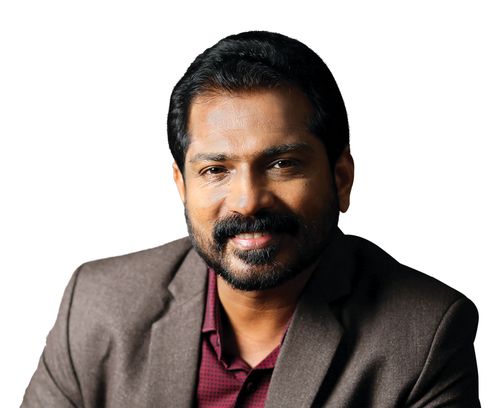 Ps. Damien Antony
Born and brought up in a Christian family, Ps. Damien Antony possessed an unquenching quest for truth right from his boyhood days and eventually his relentless search led him to the Bible. He is a Revival Preacher, Bible Teacher, Leadership Trainer, Author and a Life Coach. He moves under the anointing for Prophetic, Healing, Deliverance, Inner Healing and Financial Breakthrough. God has also blessed him with an Apostolic Mandate to take the Universal Body of Christ to the next level of revelation and anointing.