Your Sins Are Fully Forgiven Hebrews Chapter 10: Part 3
13 December, 2021

Hebrews 10:11-18 says, 'Day after day every priest stands and performs his religious duties; again and again he offers the same sacrifices, which can never take away sins

In the Old testament, all the religious temple duties, rituals, sacrifices etc were done with hands. The speciality of the New Testament ministry is that it is not a ministry of human hands instead it is a ministry of the Spirit. If a person who is living in the New Testament era continues to do a human ministry, he has not come out of the Old testament age and is ignorant of the coming of the Holy Spirit. The worship rituals and patterns changed in the New Testament wherein we worship in spirit and truth now. The style of sacrifice and ministry is spirit led. The system has changed.

The priests have been making these religious sacrifices for years, but these sacrifices will not be able to wipe away the sins that have been committed by a person. If these sacrifices and, or, religious duties cannot wipe away your sins, then why do it at all?

These sacrifices and, or, religious duties are merely a shadow of what's to come, which is the ultimate sacrifice of Jesus on the Cross of Calvary.

12 But when this priest had offered for all time one sacrifice for sins, he sat down at the right hand of God,

In the Old testament, several high priests performed these sacrifices, however, in the New Testament, Jesus was the one and only high priest and one and only, complete sacrifice. Jesus, the high priest was the sacrifice.

Another contrast is that the high priests never sat down while Jesus sat down at the right side of the Father. Jesus speaks about this before his death which was controversial and angered the high Priest

And made people spit at him.

Mark 14:62-65 says, '62 "I am," said Jesus. "And you will see the Son of Man sitting at the right hand of the Mighty One and coming on the clouds of heaven." 63 The high priest tore his clothes. "Why do we need any more witnesses?" he asked. 64 "You have heard the blasphemy. What do you think?" They all condemned him as worthy of death. 65 Then some began to spit at him; they blindfolded him, struck him with their fists, and said, "Prophesy!" And the guards took him and beat him.'

Jesus spoke the truth but was ridiculed and misunderstood by the people. They beat him and killed him but it did not make him lose his seat in Heaven. The same speaks for us too. God will promote us.

13 and since that time he waits for his enemies to be made his footstool.

Even after Jesus sat down at the right side after finishing his high priestly ministry, he continues to do the ministry of intercession.

Jesus will continue sitting at the right hand of God until the enemies are brought below his footstool. This will happen when he comes back again and becomes a ruler over all.

14 For by one sacrifice he has made perfect forever those who are being made holy.

By dying on the Cross of Calvary, Jesus made all the other sacrifices that happened in the Old Testament, irrelevant. The high priests continued performing several religious duties, year on year, but that did not help in wiping away man's sins. It can be compared to the growth of weeds. It will continue to grow till it is plucked out from the roots. Sin is like a disease that will not be healed even though we take medicine regularly. Sin is a weed that cannot be plucked off. But when Jesus came he removed sickness and pulled off the weeds off its roots. This is what Jesus' sacrifice did for us. But it is available only to those who purify themselves. Only those who submit to Jesus receives the benefits of this sacrifice personally.

15 The Holy Spirit also testifies to us about this. First he says: 16 "This is the covenant I will make with them after that time, says the Lord. I will put my laws in their hearts, and I will write them on their minds."

This is the work of the Holy Spirit. Only the Holy Spirit can come inside us and write it on my minds. In Hebrews 10.9, we see the Father's desire, in verse 10 we see Jesus' action and in verse 15 we see the testimony of the Holy Spirit. So what we receive from the father, son and the Holy Spirit is for the redemption of our sins and eternal life.

This inner cleansing and transformation will only happen with the Holy Spirit coming into us and this is not something that happened in the Old Testament, instead, it was ritualistic duties that were performed to cleanse one of their sins.

Hence the New Testament talks about the law integrated man who carries the law in his heart and when we are cleansed by asking for forgiveness with the Holy Spirit abiding in us, our sins are written off and wiped away, as they no longer become relevant.

17 Then he adds: "Their sins and lawless acts I will remember no more." 18 And where these have been forgiven, sacrifice for sin is no longer necessary."'

Here it says God deliberately forgives and forgets our sins. He does not account it any more. He has written it off. Hence, if such a cleansing of sins has taken place, then why do we perform other ritualistic duties or sacrifices? Jesus has already sacrificed and done away with our sins. We only need to believe.

Watch full video here: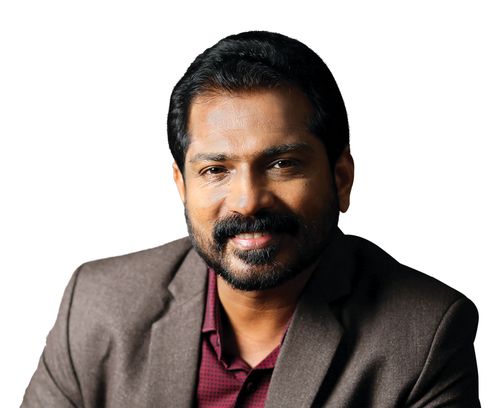 Ps. Damien Antony
Born and brought up in a Christian family, Ps. Damien Antony possessed an unquenching quest for truth right from his boyhood days and eventually his relentless search led him to the Bible. He is a Revival Preacher, Bible Teacher, Leadership Trainer, Author and a Life Coach. He moves under the anointing for Prophetic, Healing, Deliverance, Inner Healing and Financial Breakthrough. God has also blessed him with an Apostolic Mandate to take the Universal Body of Christ to the next level of revelation and anointing.