During the lockdown period, many people found themselves lost and going down the wrong path. They lost their way and came to the conclusion that ending their life was the only way in life. But we should always remember that the Lord said "I am the way". Jesus, the Way is always open. While travelling through certain roads and paths you might face hindrances and barricades but there is nothing like that in the Way that is Jesus. To receive eternal life , peace etc, we have a way called Jesus.

Hosea 4:6 my people are destroyed from lack of knowledge. "Because you have rejected my knowledge, I also reject you as my priests; because you have ignored the law of your God, I also will ignore your children.

It is important to have the knowledge imparted from the Lord and that is through the Word. It is not just hearing the Word but we need to act on it too. Even people of God are destroyed. Rejecting knowledge leads us to a very dangerous and self-destructive path. God will reject the children of those who reject the Word Of God.

1 John 4:17 In this world we are like Jesus.

As Jesus was when he lived on earth in a human body, that is how we are as well. This is something that most find hard to believe that we are the same in this world as we have a lot of shortcomings. We need to have the want and desire to lead a life in this world according to the Word, only then the Holy Spirit can help us. It is because we are unable to do it alone that God has gifted us the Holy Spirit to guide us every step of the way.

John the apostle is the one who said that in this world we are like Jesus. John spent years alongside Jesus, learning and understanding many things from his walk with Jesus. So it's on behalf of Jesus that John conveys this news to us. Right now, we are in this world in place of Jesus or in other words, just like Jesus was.

One common misunderstanding is about the similarity between us and Jesus. How is it possible ? The one common thing between Jesus and a believer is our spirits.

2 Corinthians 5:17 Therefore, if anyone is in Christ, the new creation has come. The old has gone, the new is here!

A new creation in the spirit; this is how we are the same as Jesus in this world. When we are born again, our spirit gets renewed because the Holy Spirit enters our lives.

Jesus had a sinless body, soul and spirit. When we are born again, our spirit gets redeemed and there is no sin in the spirit but the soul; mind, will and emotions need to grow in salvation and the body will be redeemed at the second coming of Jesus.
Ephesians 4:30 And do not grieve the Holy Spirit of God, with whom you were sealed for the day of redemption.

Our spirits are sealed by the Holy Spirit, and our spirit is the one similarity that we share with Jesus in this world. Seal refers to ownership, it means that it is the seal of God. We are labelled as his property (possession) and His property is not to be tampered with. The seal of the Holy Spirit on our spirits is a safety measure. We have been blessed in so many ways and we should be forever grateful that Jesus is in us!
We must believe that we are like Jesus on earth!!! God, the father sees each one of us "His Precious Child". We must not live defeated lives any more whatever be the situation we are in.

Watch full video here: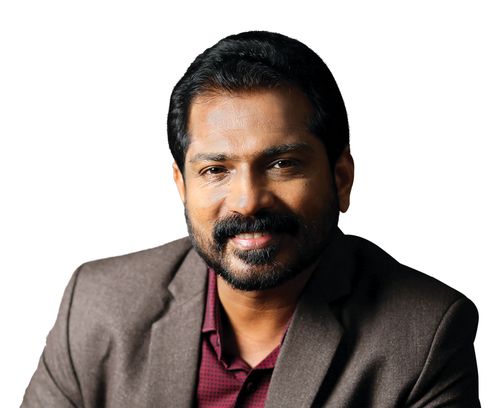 Dr. Damien Antony
Born and brought up in a Christian family, Dr. Damien Antony possessed an unquenching quest for truth right from his boyhood days and eventually his relentless search led him to the Bible. He is a Revival Preacher, Bible Teacher, Leadership Trainer, Author and a Life Coach. He moves under the anointing for Prophetic, Healing, Deliverance, Inner Healing and Financial Breakthrough. God has also blessed him with an Apostolic Mandate to take the Universal Body of Christ to the next level of revelation and anointing.