Why Answer To My Prayers Are Delayed?
A question that I had asked yesterday was - When Jesus cursed the fig tree, did it wither immediately as written in the book of Matthew or did it take time as quoted by Mark?

Both Matthew and Mark are right. The only difference being, Matthew wrote events of two days in a concise form. Whereas, Mark wrote it in an elaborate and orderly manner.
When Jesus cursed the tree, the roots dried up and it spread to the entire tree. It was a process. The roots dried up immediately but the entire tree took almost a day to dry up.

There is a great lesson for us from this. When we pray, we might not see the request being answered immediately. But understand this, the request has reached the root system and it just needs some time to completely bear fruit.
Everything that you have prayed for, the action, the sprouting has already begun and many of the requests are in the final stages. Don't give up easily.

The Fig tree represents the land of Israel. The event where Jesus cursed the fig tree has two hidden meanings. One, this was a warning to the people of Israel.
John 15:6 'If you do not remain in me, you are like a branch that is thrown away and withers; such branches are picked up, thrown into the fire and burned.'

Isaiah 34:4 'All the stars in the sky will be dissolved and the heavens rolled up like a scroll; all the starry host will fall like withered leaves from the vine, like shrivelled figs from the fig tree.

Amos 4:9 '"Many times I struck your gardens and vineyards, destroying them with blight and mildew. Locusts devoured your fig and olive trees, yet you have not returned to me," declares the Lord.

Mark 7:6-7 '6 He replied, "Isaiah was right when he prophesied about you hypocrites; as it is written: "'These people honor me with their lips, but their hearts are far from me. 7 They worship me in vain; their teachings are merely human rules.'

Many people are like this fig tree, they show that they have faith, they pray etc. but when you go closer, it is all leaves and no fruit.
Even though the Israelites were the chosen people of God, they went back to their old ways and practices. They no longer followed the commandments of God.

Luke 13:6-9
'6 Then he told this parable: "A man had a fig tree growing in his vineyard, and he went to look for fruit on it but did not find any. 7 So he said to the man who took care of the vineyard, 'For three years now I've been coming to look for fruit on this fig tree and haven't found any. Cut it down! Why should it use up the soil?' 8 "'Sir,' the man replied, 'leave it alone for one more year, and I'll dig around it and fertilise it. 9 If it bears fruit next year, fine! If not, then cut it down.'"

The verse above is a great lesson for believers all over the world. There are many believers who claim themselves to be followers of Christ, born again, but do not bear fruit. They are believers just by name. This is dangerous because a time will come as we read above, when Christ will cut off every branch that does not bear fruit.

Behind every action of God, he has an expectation or a purpose.

Another hidden meaning in the event of the fig tree,
Mark 11:15-17 '15 On reaching Jerusalem, Jesus entered the temple courts and began driving out those who were buying and selling there. He overturned the tables of the money changers and the benches of those selling doves, 16 and would not allow anyone to carry merchandise through the temple courts. 17 And as he taught them, he said, "Is it not written: 'My house will be called a house of prayer for all nations'? But you have made it 'a den of robbers.'

After cursing the fig tree, Jesus goes to Jerusalem and drives out the people who had corrupted the temple courts.

All these events confirm the same thing. Be it the fig tree or people, if it does not bear fruit, they are cursed by God.
Acts 10:38 'how God anointed Jesus of Nazareth with the Holy Spirit and power, and how he went around doing good and healing all who were under the power of the devil, because God was with him.'
God had created us to do good works and bear fruit.

Usually when a plant dries up, the leaves start to wither first and the roots are among the last to dry.
When Christ cursed the fig tree, the root dried first followed by the leaves and stem. When Christ acts, he starts from the root cause.
When a person becomes born again, it is the spirit man that first gets renewed. Then the soul and body gets renewed. So Christ commences his work deep within a person.

Mark 11:22-24 '"Have faith in God," Jesus answered. 23 "Truly I tell you, if anyone says to this mountain, 'Go, throw yourself into the sea,' and does not doubt in their heart but believes that what they say will happen, it will be done for them. 24 Therefore I tell you, whatever you ask for in prayer, believe that you have received it, and it will be yours.'

Have faith in God - Christ teaches this lesson to the disciples. Christ talks about an uncommon faith. Every person needs the faith of God.

Watch full video here: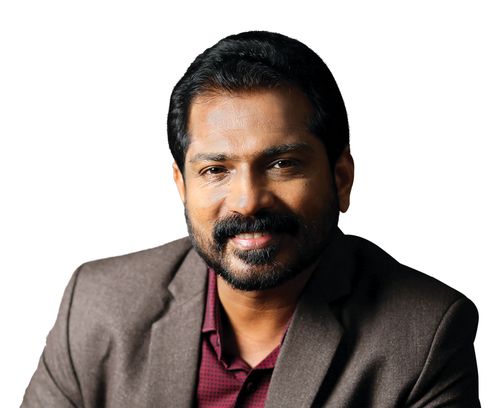 Dr. Damien Antony
Born and brought up in a Christian family, Dr. Damien Antony possessed an unquenching quest for truth right from his boyhood days and eventually his relentless search led him to the Bible. He is a Revival Preacher, Bible Teacher, Leadership Trainer, Author and a Life Coach. He moves under the anointing for Prophetic, Healing, Deliverance, Inner Healing and Financial Breakthrough. God has also blessed him with an Apostolic Mandate to take the Universal Body of Christ to the next level of revelation and anointing.