How To Move The Mountain Before You
Faith is the capital with which we can lead a joyous and victorious life here on Earth. Even if your wallet is empty and there's no single grain of rice in the container at your kitchen, you still can proceed in life through faith. On the contrary, if you have everything and yet lack faith and hope, your life can collapse. These days, a heavy dose of faith is being injected to you by the Holy Spirit and through the Word; and therefore make sure you don't miss any message in this series of Radical Faith.

Matthew 21:21,22 - Jesus replied, "Truly I tell you, if you have faith and do not doubt, not only can you do what was done to the fig tree, but also you can say to this mountain, 'Go, throw yourself into the sea,' and it will be done. If you believe, you will receive whatever you ask for in prayer."

Jesus was hungry on his way back to the city and seeing a fig tree by the road, he went up to it but found nothing on it except leaves. Then he said to it, "May you never bear fruit again!" Immediately the tree withered.

What do we see here? Jesus cursed the fig tree as it had borne no fruit and immediately the tree withered. When we pray about certain things with faith, there's an immediate impact on the root system of that particular matter even though it may take time to see the visible results. Never stop believing and confessing your faith.
If there's anything in your life/ family/ church that has grown up like a fig tree that wastes time/ space/ money, command it to be uprooted and it will root out - be it sickness/poverty/ addictions/depressions in your own life/ others' lives- command it to be uprooted and it will sooner or later be wiped out.

Through this instance, Jesus taught His disciples a Faith Lesson - if you have faith and do not doubt, not only can you do what was done to the fig tree but also …..

For example, if your child is been addicted to games/ pornography/ some other addictions and spends hours in their room with the doors locked and you've tried everything possible to bring them out of it and have failed to see the result - you can go to your room and command the addiction to be eradicated just as how Jesus cursed the fig tree and it withered - keep confessing/commanding to your problems until you see the result. The words that you confess in faith and authority will yield results.

The fig tree symbolizes the nation of Israel and the Jerusalem temple - there's a curse on both of these and it's been destroyed although currently it's heard that the groundwork to rebuild the temple is happening, just as it was told by Jesus as the sign of the last days.

However, the point is you can root out things that are an obstacle in your daily life. Jesus then said, "you can also say to this mountain, 'Go, throw yourself into the sea,' and it will be done. If you believe, you will receive whatever you ask for in prayer."

2 Timothy 4:7 - I have fought the good fight, I have finished the race, I have kept the faith.
Paul didn't fight against his fellow-ministers/Caesar; rather he mentions the fight of faith.

'Moving a mountain' was a metaphor in Jewish literature which meant 'to do something that is impossible'. Other than that, Jesus didn't mean to move any mountain that we see with our naked eye, like Mt. Everest/ Mt. Sinai/ Mt. Tabor etc. God has created everything beautifully and moving mountains will distort the ecosystem, and that's not what Jesus meant here.
If you believe and command with your own mouth/ words, you can make the impossible become possible. You yourself can move the mountain-like situation that is in front of you! That is the faith lesson that is being taught here.

Q. How to Move a Mountain That is in front of you?
A. 1 Corinthians 13:2 - If I have the gift of prophecy and can fathom all mysteries and all knowledge, and if I have a faith that can move mountains, but do not have love, I am nothing.
Although that chapter talks about love, in this context I'd like to highlight 'have a faith that can move mountains'
All you need to move a mountain before you is faith; not money, not muscle power.
Be it any problem - family issues, financial crisis, children's education/ behavior, work-related problems- whatever it may be, if it stands as tall as a mountain before you;Jesus says, "If you believe and do not doubt in your heart, you can speak to the mountain - the matters that's hindering you from progressing in life, something that's logically impossible - if you speak to that mountain by faith, it will move away."

A faith that can move mountains (this is a category of faith) - right from the start of my service to the Lord till date, I've seen not just one, but many mountains that stood tall before me, as though there was no way out - but by the abounding grace, through the Holy Spirit and the faith in God - the faith to move mountains, I opened my mouth and spoke/commanded mountains along with those who were with me, to move away, and it did depart.
By doing so, God helped us reach this far, and we just celebrated 28 years of ministry last month. You too can witness the very same in your life if you have a faith that can move mountains.

Usually when people face a mountain/ an impossible matter, they immediately cry out to the Lord, "Good Lord, save me and move this mountain that stands before me"
But Jesus here says, you need not come crying to Me to move that mountain, and you neither have to pray in order to move the mountain - you just have to speak faith to the mountain.

Don't speak about the mountain to God;
speak to the mountain about your Big God.

Normally, a mountain stands deep-rooted; but when God has given a faith that moves mountains inside you, the impossible will be made possible.

Here's an illustration of David and Goliath:
David was chosen to be the second king of Israel and in his boyhood days, during King Saul's reign, the Philistines gathered their forces for war against the Israelites and a giant named Goliath who was about 9 feet tall came and stood before the Isrealites. Goliath stood and shouted to the ranks of Israel, "This day I defy the armies of Israel! Give me a man and let us fight each other." On hearing the Philistine's words, Saul and all the Israelites were dismayed and terrified. For forty days the Philistine came forward every morning and evening and took his stand.
That's when David the boy came to the scene, filled with anointing and with faith in him. He probably would have been 5 feet tall, as he was in his growing stage. While David was at the battle lines, Goliath, the Philistine champion from Gath, stepped out from his lines and shouted his usual defiance, and David heard it. To cut the long story short, David said to the Philistine, "You come against me with sword and spear and javelin, but I come against you in the name of the Lord Almighty, the God of the armies of Israel, whom you have defied. This day the Lord will deliver you into my hands, and I'll strike you down and cut off your head. This very day I will give the carcasses of the Philistine army to the birds and the wild animals, and the whole world will know that there is a God in Israel. All those gathered here will know that it is not by sword or spear that the Lord saves; for the battle is the Lord's, and he will give all of you into our hands." (1 Samuel 17:4547)
David spoke to Goliath that stood before him and not to God. When a mountain/ problem stands before you, you need to be talking to the mountain/ the problem and not to God. Jesus spoke to the fig tree, "May you never bear fruit again!" People around may have thought that Jesus was insane as he was talking to a tree. We too speak to God and to people, but are hesitant to talk to the problems/sickness we face in life. We do not talk to trees/ nature/ animals; but the Bible says we can speak and if we speak, something will happen.
Goliath came against David with sword and spear and javelin, but David came against Goliath in the name of the Lord Almighty and he spoke to the trouble that stood before him.
This is what we need to do - Speak words of faith into your situations, be it poverty/sickness or any other issue. Speak faith with your mouth and you will see the result!

Watch full video here: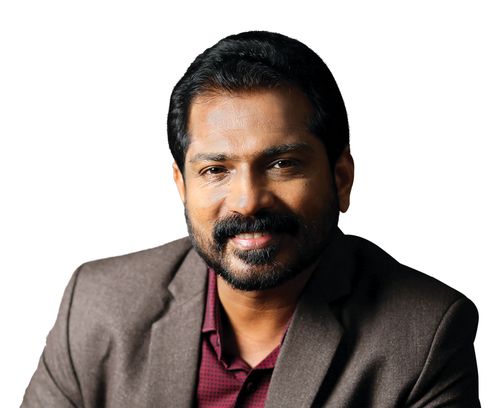 Dr. Damien Antony
Born and brought up in a Christian family, Dr. Damien Antony possessed an unquenching quest for truth right from his boyhood days and eventually his relentless search led him to the Bible. He is a Revival Preacher, Bible Teacher, Leadership Trainer, Author and a Life Coach. He moves under the anointing for Prophetic, Healing, Deliverance, Inner Healing and Financial Breakthrough. God has also blessed him with an Apostolic Mandate to take the Universal Body of Christ to the next level of revelation and anointing.