Speak Your Faith Internally
Mark 5:21- 42
When Jesus had again crossed over by boat to the other side of the lake,a large crowd gathered around him while he was by the lake.22 Then one of the synagogue leaders, named Jairus, came, and when he saw Jesus, he fell at his feet. 23 He pleaded earnestly with him, "My little daughter is dying. Please come and put your hands on her so that she will be healed and live." 24 So Jesus went with him.
A large crowd followed and pressed around him. 25 And a woman was there who had been subject to bleeding for twelve years. 26 She had suffered a great deal under the care of many doctors and had spent all she had, yet instead of getting better she grew worse. 27 When she heard about Jesus, she came up behind him in the crowd and touched his cloak, 28 because she thought, "If I just touch his clothes,I will be healed." 29 Immediately her bleeding stopped and she felt in her body that she was freed from her suffering.
30 At once Jesus realised that power had gone out from him. He turned around in the crowd and asked, "Who touched my clothes?"
31 "You see the people crowding against you," his disciples answered, "and yet you can ask, 'Who touched me?' "
32 But Jesus kept looking around to see who had done it. 33 Then the woman, knowing what had happened to her, came and fell at his feet and, trembling with fear, told him the whole truth. 34 He said to her, "Daughter, your faith has healed you. Go in peace and be freed from your suffering."
35 While Jesus was still speaking, some people came from the house of Jairus, the synagogue leader. "Your daughter is dead," they said. "Why bother the teacher anymore?"
36 Overhearing[a] what they said, Jesus told him, "Don't be afraid; just believe."
37 He did not let anyone follow him except Peter, James and John the brother of James.38 When they came to the home of the synagogue leader, Jesus saw a commotion, with people crying and wailing loudly. 39 He went in and said to them, "Why all this commotion and wailing? The child is not dead but asleep."40 But they laughed at him.
After he put them all out, he took the child's father and mother and the disciples who were with him, and went in where the child was.
Here we see two miracles performed by Jesus. We understand that Jesus has his own perspective for miracles and spiritual laws. The main spiritual concept to understand is that even if our miracles are delayed God will always give you his miracle .
The two characters in the above portion show two types of faith and how they receive the miracle they need. The lady or women symbolises the Old Testament Law and customs whilst the daughter of Jairus shows the New Testament grace.
The lady with the bleeding condition is not allowed to even enter the synagogue as per the customs and the young girl is the daughter of a church leader. So we see no matter what the situation in our life Jesus will always heal and deliver. We have to have radical faith and we will receive our miracle.
The lady was healed in public whilst the young girl was healed in her home privately or secretly. All we need to receive our miracle is to develop a radical or uncommon faith.
The woman got her healing because of her strong faith but the young girl got hers from the faith of her parents. If we have strong faith just pray and get the healing by yourself but if someone is bedridden or sick we can pray and receive the healing for them.
The woman may have been inside for approximately 12 years but the moment she realised Jesus was walking outside she ran and touched his cloak to receive her healing.
The three basic emotional needs of every man are
Acceptance
Affection
Appreciation
When the lady ran to Jesus, he accepted her when in her entire life no one did.
The gesture of Jesus allowing the lady to touch the hem of his cloak shows his affection towards her.
After Jesus healed he appreciated her on her strong faith in him that healed her
If we feel emotionally dry, just approach Jesus. He will accept you the way you are
.
Never feel worthless or neglected for Jesus values you alot. Thirst for deliverance in any situation or health condition and Jesus will accept you and deliver you.
Mathew 9:20
Just then a woman who had been subject to bleeding for twelve years came up behind him and touched the edge of his cloak
12 for she said to herself, "If I can just touch His robe, I'll be made well!" -
Here we can see the lady is speaking to herself to see Jesus and get healed. She is meditating on that all the time. Similarly we all should speak our faith to us Internally and confess it repeatedly . Whenever we speak to ourselves internally, confessing faith will release a power within us and deliver us . This will strengthen us and heal us in every needed situation or condition you may be in.
Watch full video here: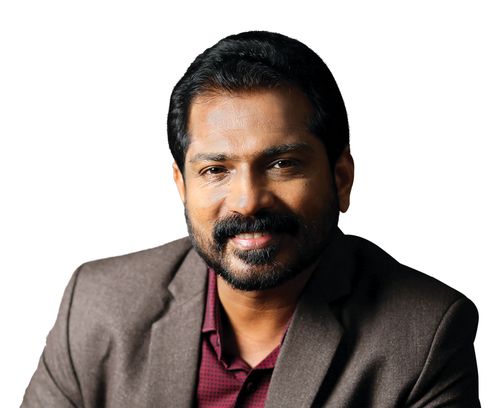 Dr. Damien Antony
Born and brought up in a Christian family, Dr. Damien Antony possessed an unquenching quest for truth right from his boyhood days and eventually his relentless search led him to the Bible. He is a Revival Preacher, Bible Teacher, Leadership Trainer, Author and a Life Coach. He moves under the anointing for Prophetic, Healing, Deliverance, Inner Healing and Financial Breakthrough. God has also blessed him with an Apostolic Mandate to take the Universal Body of Christ to the next level of revelation and anointing.