Cast All Negative People Out
There's a sequence of events recorded in Mark 5 -
1. Jesus sailed over to a region called Gerasenes to heal a demon-possessed man, He then sailed to the other side of the lake where a huge crowd gathered him.
2. Then one of the synagogue leaders, named Jairus, came, and when he saw Jesus, he fell at his feet.He pleaded earnestly with him, "My little daughter is dying. Please come and put your hands on her so that she will be healed and live." So Jesus went with him.
3. And on his way to Jairus' home, the woman who had been subject to bleeding for 12 years touched His cloak and immediately her bleeding stopped. The violent take the kingdom of heaven by force. Rather than being spoon-fed, you must reach out for your blessing/ deliverance.
Realizing that power had gone out from him, Jesus looked around to see who had done it and the woman came and fell at his feet. While Jesus was speaking to her, some people came from the house of Jairus, the synagogue leader. "Your daughter is dead," they said. "Why bother the teacher anymore?" Overhearing what they said, Jesus told him, "Don't be afraid; just believe."

Be it any issue- financial crisis/ broken relationships/ sickness/ calamities -just believe.

Death is known as the last enemy, and our Lord Jesus is alive forever and He holds the keys of Death and Hades.

In this chapter of twin miracles, we are picking out some spiritual lessons which will encourage each one of us.

Mark 5:40 But they laughed at him. After he put them all out, he took the child's father and mother and the disciples who were with him, and went in where the child was.

Fire that's about to die out will ablaze. When we draw close to Jesus, and be grounded in prayer, His Word and worship; problems may seem to ablaze. But that's a sign that those problems are about to die out and hence, the intense fire/ fiery trial. Many people get disappointed with such trials and quit their walk with Jesus, but if you draw further close while those problems remain, you'll be equipped to overcome those problems.

As Jesus came to Jairus' house where his daughter was no longer sick but dead, the people who had gathered were wailing and mourning. She was young at age (a little girl) and the family's grief became the entire town's grief. The atmosphere where we live is very important - in this context, it's an atmosphere of despair - grief, wailing, mourning, flute-players playing dirges.
Jesus stepped into this negative atmosphere and spoke positive words - the girl is not dead, but asleep. Hearing this, the people laughed at him; they sniggered in a funeral house listening to the words of the Creator (of everything), who gave the breath of life to everyone - the Author of life. But Jesus intended to wake her up from deep sleep.

Now look at what Jesus did: He put them all out - those who commented/ criticized/ snickered. He cast all negative people out and he took the father and the mother of the child, and those who were with Him - Peter, James, John; and entered where the child was lying.

1. Jesus cast all negative people out
If you need a breakthrough/ upgrade in life, cast all negative people out of your life. We must be careful with whom we associate - whether we derive good/bad, positive/ negative energy from them. Do not be engaged in any conversations that do not edify your inner-being or that would grieve the Holy Spirit. Do not be friends with those who love to criticize, indulge in loose talks, and don't impart any good/ positivity into our life.

2 Timothy 2:16 - Avoid godless chatter, because those who indulge in it will become more and more ungodly.

2. Jesus surrounded Himself with positive people
Jairus wouldn't have brought Jesus home even after knowing that his daughter died. So, the girls' parents had faith, the belief that God can still do a miracle in her life.
God can still do a miracle in your life!

Mark 5:37 - He did not let anyone follow him except Peter, James and John the brother of James
Surround yourself with positive people if you need a deliverance/ a great miracle/ advancement in life. It's your choice whether to continue in the same mode or to experience a great change in life - and for that, you'd have to say goodbye to negative people and surround yourself with positive people ( people who pray with you, speak words of faith and encouragement to your desperate situations)

Mark 5:41 - He took her by the hand and said to her, "Talitha koum!" (which means "Little girl, I say to you, get up!").
Psalm 107:20 - He sent out his word and healed them; he rescued them from the grave.

Jesus sent His Word, and her spirit returned, she stood up and gave her to her parents and told them to feed their miracle.

God can bring to life/ do a miracle in any aspect of your life, but it requires you to take some practical steps in preparation. You may be friends with them for years, but if it's negative conversations that you always have with them, you need to make a decision since it's your life and therefore reduce your interactions with them/ deviate from topics/ conversations that aren't productive/positive.

Watch full video here: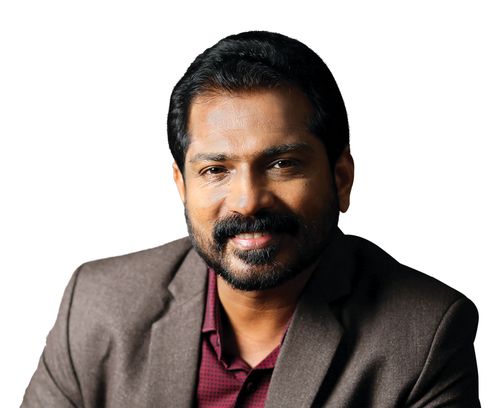 Dr. Damien Antony
Born and brought up in a Christian family, Dr. Damien Antony possessed an unquenching quest for truth right from his boyhood days and eventually his relentless search led him to the Bible. He is a Revival Preacher, Bible Teacher, Leadership Trainer, Author and a Life Coach. He moves under the anointing for Prophetic, Healing, Deliverance, Inner Healing and Financial Breakthrough. God has also blessed him with an Apostolic Mandate to take the Universal Body of Christ to the next level of revelation and anointing.