No Need To Fight For Your Inheritance
The heavenly Father has blessed His children in every realm of life. In the parable of the lost son that we read in Luke 15, we see how the father welcomed and celebrated the return of his youngest son. The father saw his son from afar, and filled with compassion, he ran to him, hugged and kissed him. He cleaned him up, had him wear the best robe, a new ring on his finger and new sandals on his feet. He then prepared a feast and danced and rejoiced with his son. This portrays the approach of the heavenly Father towards each one of us, loving us, honoring us and showering His overwhelming blessings on us even though we don't deserve any of it.


Luke 15:22-24 "But the father said to his servants, 'Quick! Bring the best robe and put it on him. Put a ring on his finger and sandals on his feet. Bring the fattened calf and kill it. Let's have a feast and celebrate. For this son of mine was dead and is alive again; he was lost and is found.' So they began to celebrate.

The father was generous toward his son and today we will focus on the seventh gift 'Inheritance'.

The son had left his home with his share of inheritance and he spent everything and returned as a pauper. But when he returned, he inherited everything again as a gift. The father didn't treat him as one of his servants or slaves, rather he gave his son new sandals for his feet which proves that the father accepted him as his own son. (Only those who belonged to the family wore sandals; the servants or slaves had none)

The father never demoted his son but restored him to his sonship and his inheritance.

We have been called to inherit a blessing (1 Peter 3:9) As a child of God, we have an inheritance and let's now go through the Scripture portions that speak of the same.

Romans 8:15-17 The Spirit you received does not make you slaves, so that you live in fear again; rather, the Spirit you received brought about your adoption to sonship. And by him we cry, "Abba, Father." The Spirit himself testifies with our spirit that we are God's children. Now if we are children, then we are heirs—heirs of God and co-heirs with Christ, if indeed we share in his sufferings in order that we may also share in his glory.

The Holy Spirit that we received does not make us slaves. Although the prodigal son had a slave mentality when he returned, the father never treated him as a slave. Slaves always live in fear, but as children of God all we need is the fear of God, and no fear of any mistreatment from God, for He is a good Father; and there's none like Him.
Through our adoption to sonship, we have the right to call Him, 'Abba, Father' and the Holy Spirit testifies that we are God's children. God has made us His children and by doing so, He has given us the highest position that any person could acquire on this Earth - every other position such as that of a Prime Minister/ President is for a certain period and we'd have to give away that position to the next person - but we remain as a child of the Most High God forever, even through eternity. Children of God never retires from that position or become an "Ex Child Of God".
We are heirs of God and co-heirs with Christ. When a person comes to Jesus, he/she is saved and receives a lot of gifts; inheritance being an important one among them. We are entitled for the inheritance from the Father. We have inherited all things with Christ. You're a child of God once you become saved; you belong to God's family and you have a birthright!

We've all heard of conflicts for inheritance in almost every place on Earth.
Luke 12:13 - Someone in the crowd said to him, "Teacher, tell my brother to divide the inheritance with me."
There are huge disputes and lawsuits going on between siblings regarding inheritance everywhere and at all times. Some disputes are perpetuated to the next generations.
Luke 12:15 - Then he said to them, "Watch out! Be on your guard against all kinds of greed; life does not consist in an abundance of possessions." (Jesus here mentions about the earthly possessions)

Matthew 21:38 - "But when the tenants saw the son, they said to each other, 'This is the heir. Come, let's kill him and take his inheritance.'
The son here is Jesus himself and we are co heirs with him. We live in a world where people don't hesitate to kill others in order to possess the inheritance. If you're a person involved in such disputes, make sure to handle such matters with a good frame of mind, prayer and wisdom, because just as Jesus said, life does not consist in an abundance of possessions.

In Isaac's home, the twin brothers Jacob and Esau had issues regarding their birthright that lasted throughout their life and was settled only in their last stage of life. Jacob lived as a fugitive in fear of his brother Esau. They were twin brothers, but they later had hatred regarding inheritance.

1Peter 1:3,4 Praise be to the God and Father of our Lord Jesus Christ! In his great mercy he has given us new birth into a living hope through the resurrection of Jesus Christ from the dead, and into an inheritance that can never perish, spoil or fade. This inheritance is kept in heaven for you.
God has given us a new birth into an inheritance that can never perish, spoil or fade. A majority in the believers community aren't even bothered about this divine inheritance, for they're more concerned about a better life here on Earth.

When the prodigal son returned home, the father gave him overwhelming blessings and gifts. Likewise, God has great things in store for every person who repents and returns to Him. People fight for their inheritance here on Earth, but how great is the inheritance that we have in Abba Father. There's nothing wrong with possessing your birthright, but you need not grab it/ fight for it; and if you've had to suffer injustice for the same, Abba Father is faithful and just to give you sevenfold here on Earth itself, in addition to the divine inheritance! Let's fix our eyes on Jesus and follow His way of love in our day-to-day life. The Lord Himself is our greatest reward!!

Watch full video here: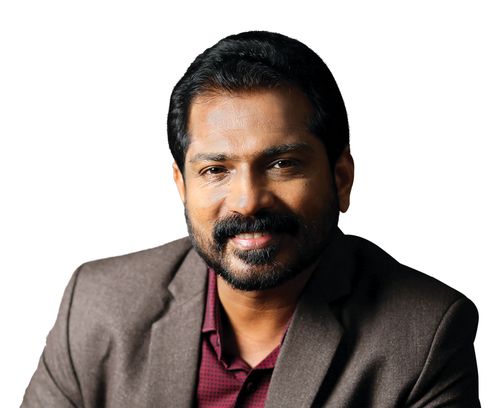 Dr. Damien Antony
Born and brought up in a Christian family, Dr. Damien Antony possessed an unquenching quest for truth right from his boyhood days and eventually his relentless search led him to the Bible. He is a Revival Preacher, Bible Teacher, Leadership Trainer, Author and a Life Coach. He moves under the anointing for Prophetic, Healing, Deliverance, Inner Healing and Financial Breakthrough. God has also blessed him with an Apostolic Mandate to take the Universal Body of Christ to the next level of revelation and anointing.