Journeying By Faith Hebrews Chapter 11: Part 4
21 December, 2021

Hebrews 11:8-12 '8 By faith Abraham, when called to go to a place he would later receive as his inheritance, obeyed and went, even though he did not know where he was going. 9 By faith he made his home in the promised land like a stranger in a foreign country; he lived in tents, as did Isaac and Jacob, who were heirs with him of the same promise. 10 For he was looking forward to the city with foundations, whose architect and builder is God. 11 And by faith even Sarah, who was past childbearing age, was enabled to bear children because she considered him faithful who had made the promise. 12 And so from this one man, and he as good as dead, came descendants as numerous as the stars in the sky and as countless as the sand on the seashore.

The faith that we see here in Abraham, Isaac and Jacob is 'Waiting Faith'. This is when you patiently wait for what God has told to come to pass. Even if things seem to go the other way, you need to wait.

Vs 8.
Just like God called Abraham, He has called us too. If God has called you, blessings are a sure reward. But you need to wait patiently. God told Abraham to go to a place which he has never seen. Abraham obeyed and went, but it took him a lot of time and many detours to reach the promised inheritance.

Many people believe that if they get saved one day, then within the next few days they will receive all their blessings.

Abraham never knew where he was going. He did not know his final destination. God told him to go and he went. The One who called Abraham is faithful.

Vs 9.
Even though Abraham reached the land promised to him, he lived there in tents like a stranger. When God called Abraham from out of Ur to the promised land, he was well settled. He was called from the familiar to go to the unfamiliar.

A life of faith means not knowing what will happen next in your life but just believing in Him. People around might discourage you because they don't see anything happening in your life. But if you pray and have this pull of faith inside you, one day you will see the results.

Vs.10
They were looking forward to a city with foundations and whose builder is God. This city is the New Jerusalem. He had this revelation. Abraham, Isaac and Jacob were all looking forward to this city while in their promised land.

This is the Heavenly hope.

The Bible calls us foreigners and sojourners.

1 Peter 2:11 'Dear friends, I urge you, as foreigners and exiles, to abstain from sinful desires, which wage war against your soul.'

Vs.11- 12
Sarah was past her child bearing age but because of their faith and obedience they were blessed with generations.

Now, Abraham also had moments of disobedience. Instead of going all the way to Canaan, he tried to settle in Harran.

His obedience was a delayed obedience. But God forgave him.

Acts 7:2-4 'To this he replied: "Brothers and fathers, listen to me! The God of glory appeared to our father Abraham while he was still in Mesopotamia, before he lived in Harran. 3 'Leave your country and your people,' God said, 'and go to the land I will show you.' 4 "So he left the land of the Chaldeans and settled in Harran. After the death of his father, God sent him to this land where you are now living.'

Similarly, our graph of faith may have ups and downs. But our God is a forgiving God.

Abraham received the promise of an offspring when he was around 75 years of age. Sarah grew impatient after a certain point and decided that Abraham would have generations through Hagar. Abraham agreed to her decision.

What does this imply? Both Hagar and Abraham did not have faith anymore. But still God forgave them.

When Sarah heard the visitors telling Abraham that they would have children, she chuckled. She did not have faith. But God forgave. He did not abandon them.

God increased their faith, blessed them abundantly and fulfilled the promises in their life.

Watch full video here: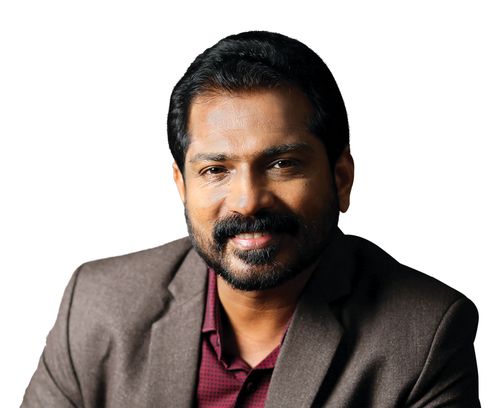 Dr. Damien Antony
Born and brought up in a Christian family, Dr. Damien Antony possessed an unquenching quest for truth right from his boyhood days and eventually his relentless search led him to the Bible. He is a Revival Preacher, Bible Teacher, Leadership Trainer, Author and a Life Coach. He moves under the anointing for Prophetic, Healing, Deliverance, Inner Healing and Financial Breakthrough. God has also blessed him with an Apostolic Mandate to take the Universal Body of Christ to the next level of revelation and anointing.